One of the coolest things about having gone away for college is that I met people from all over the place. As such, I find myself taking a trip at least once a year to attend some sort of wedding or reunion. Last year it was beautiful Southern California, this year I paid a visit to some Virginian country side and Washington D.C.
If you follow GMW over on Facebook then you know I recently (and by recently I mean last weekend) took a trip out to Virginia for a dear college friend's wedding. I always like to do recaps of trips because I  think they make interesting writing pieces . I also don't get to travel as often as I would like, nor do I get the opportunity to see my college friends that often, so I cherish the moments I can do some exploring with people I went to college with.
Since I went to such a small school these trips are usually extra fun, simply because we have a ridiculous bond as classmates, room mates, and friends. In fact, the bond I share with many of my college friends even borders on family.
So below you'll find some of the highlights from my trip.
The Wedding and the Reunion
Weddings serve a double purpose for those associated with my alma mater; celebrating the nuptuals of a young couple and college reunions. What usually ensues is a crazy weekend full of adventures and this one was no different. Not only did I get to witness my lovely room mate who I hadn't seen in three years get married to a great guy, I also caught up with friends from all over the country.
I was staying at the bride's house which is already an adventure in and of itself. I also got to enjoy some beautiful country side, rolling green hills, quaint old towns, cows and all. Usually I can only handle the country in small doses,  however it is nice when you need a break from a concrete jungle like Miami.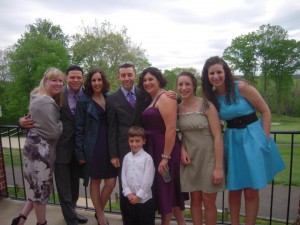 Hitting Up the District
Many of us had an extra day before flying out so we took advantage and went into Washington DC for the day. I personally love DC and was happy that I got to go explore some more of the city seeing as how my last visit was over three years ago. This also paved the way for more reunions as many of my college friends now live in the area.
In no particular order here's how the day went:
I met Newt Gingrich. I personally didnt vote for the guy but seeing as how he is a former Speaker of the House I thought it was pretty nifty that we got to meet him by a completely random chance. There's also no denying that he's quite the debater and has a long history in the politics of our nation.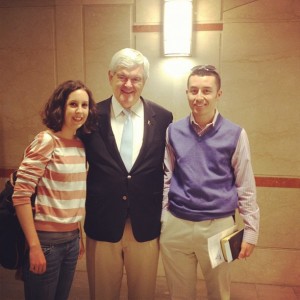 I went to the monuments I didnt get to see the last time I was in the area. The last time I was in DC was for a march, so we didnt have too much time to acually enjoy the city. This time I got to play tour guide for a couple of friends who had never been. Of course, there's no way you can see all of DC in 2 short trips so obviously I'll have to come back someday.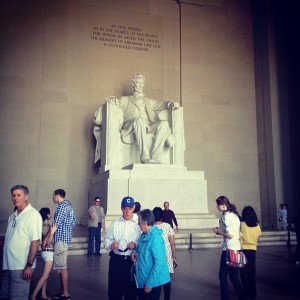 College reunion #2 was at a bar called The Dubliner. Its a tradition to visit this bar for those of us who went to Catholic colleges and we always have a good time. All you need is some Newcastle accompanied by Irish drinking songs and you have ingredients for a stroll down memory lane.
I met a blogger buddy in real life for the first time – not via Skype but in person! I met blogger buddy Patrick Pho which further emphasizes how the power of the internet and social meia is so freakn' cool! Check out his blog, I swear he is just as cool in person : ) (PS if you'd like to see the camera that took these pictures check out Patrick's Twitter. And yes, it is indeed being held together with tape lol)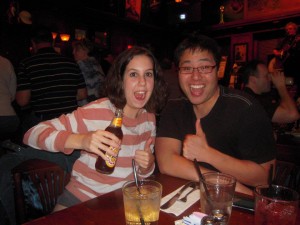 And that was pretty much my trip sprinkled with adventure, memories and laughs. Now its back to work and back to my life coaching certification classes so that someday I can be location independent and take trips whenever I want. Wouldn't that be nice?