My sincere apologies to the gentlemen who read this blog, but this week I've got a ton of cool stuff lined up just for the ladies.
If you're a millenial woman on the career path make sure to check out these awesome events and articles all over the web.
Levo League Mentorship Match Initiative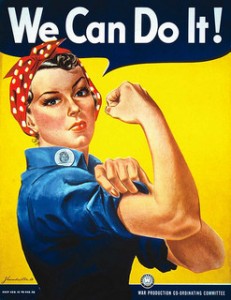 Many of you guys, whether you've been following Grad Meets World since it's inception or just recently started reading, graduated without a job. A common theme for graduates in the last few years, this has affected us emotionally, psychologically and financially – in some ways bad and in some ways good.
And so, two years after I (and many of you) graduated, I ask the following question:
Remember how much it sucked to graduate without a job?
The uncertainty, the empty bank account, having to move back home, the anxiety that came with it all?
I bring this up for many reasons. First, it's good to take a look at our past every once in a while to see how far we have come. Many of us have found work, have created our own work and have really started to live life on our own terms. Sure, the road may have been (and may continue to be) bumpy, but we've realized that not all is lost and we won't drop dead tomorrow just because we happen to have graduated during a recession.
Second, I bring this up because it's good to recognize those individuals that were there for you. You know, the ones that talked you through it all, supported your crazy ideas or in my case, handed me a book that slowly began changing the way I lived my life.
And so I ask another question:
Did you have someone to help you through that period of uncertainty– someone who helped you navigate what you wanted to tackle in the professional world?
Whether you did or you didn't, you probably know by now how valuable a resource like that can be for a new graduate, which is why I'm really excited to tell you all about this online initiative taking place.
Meet The Levo League: an organization dedicated to helping young women achieve their career goals and find their dream jobs. Levo is celebrating Graduation season by kicking off their Mentorship Match initiative, and we at Grad Meets World are putting out a call to you: If you know a thing or two about your industry, sign up to participate in the Levo League Graduation Guide program.
You can sign up at www.levoleague.com and specify whether you're a new grad desirous of mentorship or a veteran professional willing to share your expertise with new entrants to the working world.
SheNOW Twitter Chat with Life Coach Amanda Abella – Get your Career Questions answered!
Did you just graduate? Are you looking for first job? Do you have a job and think it's time to leave? Do you have the entrepreneurial spirit?
Whatever your career question make sure to join me and SheNOW for a Twitter chat on Monday June 4th at 10PM EST. We'll be addressing all your career concerns so make sure to use the hash tag #SheNOWCHAT to get in on the chat!
Check out SheNow.org for more details!
The Frugalpreneur Podcast – Building a Kick Ass Brand with Amanda Abella of GradMeetsWorld.org
I never actually posted this on the blog so I figured now is as good as time as any! Listen in to hear Shannyn (Frugal Beautiful, Beautiful Giveaways, The Frugalpreneur) and I have loads of fun while we discuss the many ways of building your brand online. Seriously, we're a trip.
I had an article published on Forbes! 6 Things That Keep 20-something Women from Financial Success
I had an article published on Forbes.com! Thanks to Glass Heel, a website dedicated to helping professional women on their way to the board room,  I had the amazing opportunity to show my skills for a huge publication! Make sure to check out 6 Things that Keep 20-Something Women from Financial Success. Oh and it's in the TOP 5 MOST READ ON FORBES WOMAN (at least while I'm writing up this post)!
You can also check out these other awesome articles just for Gen Y women:
The 3 Ingredients to Career Satisfaction – Classy Career Girl Podcast
It's Funny What a Little Fun Can D0 - Glass Heel
4 Types of Toxic Bosses – and How to Handle Them – Forbes Woman
Don't have a job? Six Easy Ways to Go from "Oh No!" to "Let's Do This!" -The  Levo League
The women before us paved the way for us to have fulfilling careers while remaining true to our femininity. Give thanks and pay it forward for your future daughters by taking advantage of all the opportunities that have been presented to us.