This week's Q&A comes from one of my assignments for my ICA certification. I figured it would actually be a great way to help those of you who are considering seeking out the help of a life coach. I can only speak from my own experience as a client, however I do feel like this can benefit some of you who are unsure if life coaching is right for you.
Why do people seek out life coaching?
You may be considering coaching to help you reach your goals, sort out some issue thats got you stuck or move forward with some aspect your life. You may be considering it to seek clarity, have some accountability or simply out of curiosity. Whatever the case may be, there are certain things you can expect once you've established a relationship with your life coach.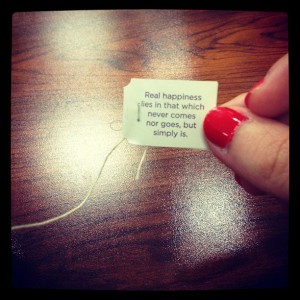 My Group Setting Experience
The first time I ever tried any sort of life coaching was in a group setting with one of my favorite authors and speakers, Gabrielle Bernstein. I had an inkling that I needed to work on my issues with spirituality and authenticity. I also knew that although I had done a lot of work to overcome past hurt and resentment that I needed some help on moving forward. Overall, I knew I was ready to allow someone else to help me.
So on February 27th I started a 4 week group coaching course with Gabrielle Bernstein. Since I don't live in New York I attended via Ustream, but it still felt like I was in the room with all the other people. Her format was somewhat different but enjoyable – she would give us tools and principles from A Course in Miracles and teach us how we could use them in our own lives. She would then take questions and coach individuals through whatever was coming up for them.
Although I was quite familiar with Bernstein's work and I thoroughly enjoyed the group coaching, I knew I may have needed more one-on-one work. Especially since at that time I knew that I, too, someday wanted to be a coach for others.
Soon after my group coaching with Bernstein I signed up to become a certified life coach.
My Individual Coaching Experience
As you know, I'm a very big fan of my Peer Coach, Jilean Beharry. We instantly hit it off during our exploratory session and decided to see where this coaching relationship would take us. I will admit that at first I was somewhat standoffish about things I needed to work on – namely the issue of trust which I insisted on calling "The T Word." I was also dead set on working on my career and side hustle, but as time went on Jill cracked me open and we discussed things that were really eating me up in the inside – romantic relationships, anxiety, overworking myself, how I'd lost my faith and the incessant urge to control everything.
By the end of it I felt like a giant weight had been lifted off my shoulders and I had more clarity about the various areas I needed to work on. In fact, shortly after completing our coaching I found myself in a romantic relationship for the first time in years.
How do I know if life coaching would work for me?
There's no guarantee on your happiness in life coaching because they don't hold the reigns to your life, and whatever coach you seek out should make that very clear. Their job is to help you figure stuff out for yourself, to hold you accountable and to tenderly push you when necessary.
The fact of the matter is that you have to come from a place of openness and commitment to improving your life. You have to meet your coach half way or more if you expect to get results.
If I would have flaked out on sessions and avoided doing the work I never would have had the amazing results that paved the way for great things to come into my life. Instead, I showed up for myself, did the work and allowed myself to be cracked open during our sessions. I let the walls come tumbling down so that I could get the most of my coaching experience.
As a result being in the client's seat was a huge eye opener from me. I got to experience first hand what it's like to be on the other side of the table – being coached, being cracked open, being held accountable by someone else, and letting go of any preconceived notions I may have had about my own clients. I got to experience the power of coaching first hand so that I can later share it with my own clients down the road.
If you're considering seeking out a life coach but aren't sure if you're ready, feel free to use this free guide to see if you're suited to start getting coached. If you're looking for a life coach feel free to drop me a line.