At some point in our lives we're all going to deal with a break up. Let's face it, sometimes relationships don't work out. It hurts, it sucks and it's hard – but at the end of the day we have to let go and move on.
This time around I've done things a little differently. Rather than clawing, manipulating and wishing things were different I've decided to let it all go on a daily basis. Rather than resisting and pretending like everything is fine I'm flat out letting people know when I feel like crap. Rather than holding on to anger I'm trying my best to see the light in the situation.
Obviously this a work in progress, and it's something I have to do everyday. But there are several things that have helped me along this process. Below you'll find my seven steps for getting over a break up.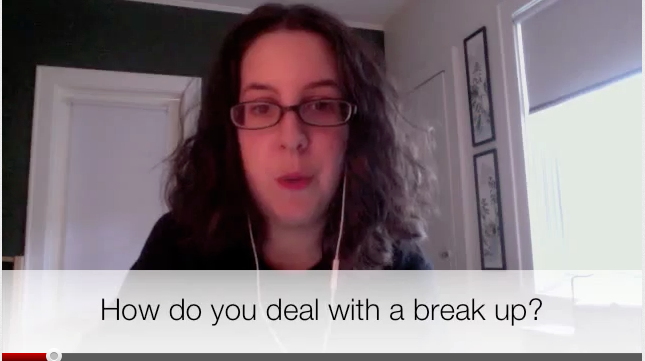 Reading this in an email? Click here to view the video!
Like what you see? Subscribe to GMW on YouTube!
Step One: Allow yourself to feel.
Do not resist whatever comes up for you. If you feel like crap just admit it, feel it and move on. There's no need to resist because that will just make things worse.
Step Two: Forgive, let go and surrender.
Do this on a daily basis. Start in the morning and then do it again at night. If you feel yourself getting negative or angry toward another person practice letting go right then and there. Gabby Bernstein has got some awesome meditations and visualization exercises for this.
Step Three: Have a support system.
A break up is not a good time to be alone. Surround yourself with people who care about you and support you each step of the way. The more positive the better! Thanks to some of my friends (both online and off) I've bounced back to my silly hyperactive self much faster than I initially thought I would.
Step Four: Find the lesson.
Finding a lesson in a tough situation is a great way to empower yourself while you're healing. What can you learn from this situation? In my case I think I'm supposed to learn how to let go, trust and be compassionate toward the other person. Patience is definitely a big lesson here too!
In life coaching we often talk about reframing perspectives. Finding a lesson is a good way to do just that. You can also try any of the following perspectives (taken straight from my ICA study materials):
 Most experiences in life have a mixture of good and bad in them and I choose to focus on the good.
Even the worst situations offer opportunities to learn and grow.
Every new situation is a new opportunity. My past doesn't have to determine my present or future.
Living in alignment with my values is the most important thing. Relationships with others flow out of this.
Today is going to be a good day if I choose to make it one.
I have my journey. Other people have theirs.
There are many opportunities in every day for me to shape my future.
I can live with life's disappointments and not be overwhelmed by them.
I am a unique and magnificent human being.
My life is the most important project I will ever work on.
Most people are good at heart.
I am the only one who can change my mind and my heart.
We are all different and that's one of the things that makes life interesting.
We all make mistakes. It's how you learn from them that matters.
Virtue is its own reward.
Step Five: Get physical.
Exercise may be your best friend during this time. In addition to my regular yoga and use of public transit I've added mixed martial arts to my routine. Hey, I needed something a little more aggressive for a while! LOL
Step Six: Find a purpose for your pain.
After careful reflection I realized that I could use my experience during this break up to help others who may be going through the same thing. After all, I started this blog two years ago because I was having a tough time – there's no reason I should stop now!
Step Seven: Do something nice for yourself.
I'm giving myself a mani/pedi. If I really get isnpired I'm throwing in a massage too. If you're going through a rough time it's completely okay to do something nice for yourself. You deserve it.