This should be required reading for anyone in the working world, but especially for those of us who are just starting out. Although I like to think I have an edge on how the business world works simply because I work in recruiting, I actually noticed that I have indeed made several of the mistakes mentioned in this book. In fact, since I'm conducting job interviews on the daily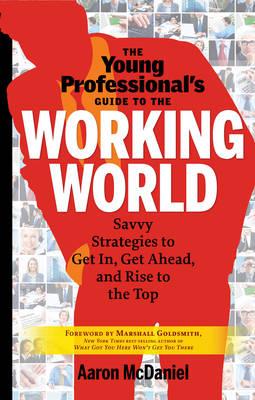 I'd say at least 75% of the people I meet  continue to make several of the professional faux pas reiterated in this guide regardless of how many years they've been in the workforce.
Quite simply, this book is pure gold for anyone who wants some insight on how the professional world actually works. Furthermore, it's a handy guidebook for anyone wanting to be successful the right way – through abundance, gratitude, hard work, creativity and teamwork.
It's a book I wish I would have had two and a half years ago when I was a fresh faced college grad trying to job hunt in the middle of a recession. It's also a book I wish many job candidates would read BEFORE I have to interview them. Below you'll find a list of some of my favorite highlights from the book.
False Expectations About Entering the Corporate World & 6 Things I Wish I Knew About Companies Before I Started My Career (Pages 22-23)
As someone who works in recruiting I nearly cried from laughing so hard when reading these pages. Partially, because I had these expectations myself a couple of years back, but also because I'm constantly interviewing people who think raises happen often, promotions are easy, starting salaries are what their schools told them they would be and that companies should fit their needs.
Don't get me wrong, I'm all about being successful and kicking ass in your career. I'm also all about flexibility and having a life outside of your office, but we really need to quit the entitlement crap.  All that's going to do is get you a very very rude awakening when entering the working world – and sometimes I'm the one who has to give candidates this awakening. Talk about awkward.
The STAR vs The DOPE (Chapter 2 and beyond)
This book provides a unique guide for the working world through two juxtaposing personas: the STAR (Savvy, Tenacious, Adaptive and Resourceful) and the DOPE (Disses Opportunity, Potential and Earnings).
The STAR, also known as the Successful Young Professional, possesses the several qualities outlined throughout the book that will help you thrive in the working world. Meanwhile, the DOPE manages to screw everything up by being negative and looking out for himself.
What's really great about using the two personas is that they teach you lessons that can not only apply to your role in the professional world, but they also relay meaningful lessons to take into other aspects of your life such as a belief in abundance, celebrating others and the power of perspective.
The House Analogy
McDaniel uses a simple to understand analogy in order to explain how to set ourselves up for success in our careers: building our careers is like building a house. You have the foundation, the framework and the exterior.
In this case each step is as follows:
Foundation: The core principles that will help you as you build your career.
Framework: Nine attributes and characteristics that serve as the structure of your career – from being resourceful to making decisions.
Exterior: This section has less to do with what you do and how you do it and more to do with how others perceive you to be. This represents the visible exterior of your career and covers effective communication, your attitude and how to network.
Get comfortable with failure.
This book provides a very empowering perspective on the idea of failure. McDaniel gives it you straight: we're human and we will inevitably fail at something. We will make mistakes along our career path, we will have to learn some things the hard way and not everything is going to go according to plan.
The difference between a successful young professional and a mediocre worker is their level of resilience. Those who have gotten comfortable with failure can pick themselves up as many times as it takes until they get it right. Unfortunately, most people give up at the first sign of rejection, their first mistake on the job or at their first inkling that something will go wrong.
By the end of the book you have a clear cut guide on how to rock your career for the long haul. These aren't quick fixes, they are foundational insights to help you run the marathon that is your career.
Kick Ass Career By 2013 Giveaway
In celebration of all our career goals for 2013 I decided I'm going to give away a FREE copy of The Young Professional's Guide to the Working World. If you're looking to rock your career for the long run, regardless of whether you are just starting out or have been working for a while, this book will help you achieve your goals. Want in? Here's how to participate:
1. Tweet about the giveaway. You can use any of the following pre-made tweetable. (1 entry per tweet)
[tweetable]Want to rock your career? The Young Professionals Guide to the Working World via @amandaabella http://bit.ly/Y6GceT[/tweetable]
2. Share on Facebook. You can use the following guide: (2 entries per post)
@GradMeetsWorld is having this awesome book giveaway for job hunters & young professionals! Check out The Young Professional's Guide to The Working World! http://bit.ly/Y6GceT
3. Email your friends or email subscribers! Please make sure to copy me so I can count your entry amanda [at] gradmeetsworld [dot] org. You can also use the following template: (3 entries)
My blogger friend Amanda Abella from Grad Meets World is having an awesome book giveaway to help young professionals with their career goals. She's dishing about Aaron McDaniel's The Young Professional's Guide to the Working World on her latest blog post and is celebrating by giving away a free copy!
Please check out her awesome blog for career advice and feel free to participate in the giveaway! Visit http://www.gradmeetsworld.org for more info.
Thanks!
4. Tell us what some of your professional goals are in the comments section! Got a website? Share it! Want to be an entrepreneur! Dish it out, honey! (4 entries)
Here's to beautiful and abundant careers for everyone in 2013!