With all the talk lately about student loans being the new sub prime mortgage it can be easy to feel confused about higher education. Questions like: "What major will get me the better job?", "Is the degree even worth the loans?" or "Is grad school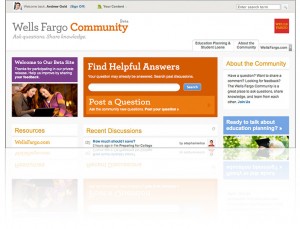 going to help me out?" all come up at least once during our time as students and professionals.
Maybe you decided to put off college over the cost. Maybe work experience came first. Maybe you're debating about whether or not grad school will get you a better paycheck in the long run. All of these are valid situations that occur daily in the lives of young professionals. Perhaps you may even be considering some of these options yourself.
But where can you find some decent information? The news obviously isn't helping anymore and schools have been getting in trouble for either inflating employment numbers or doing some sketchy stuff with loans.
Enter the Wells Fargo Community – an online resource for anyone figuring out how to pay for their education.
I have to give some major kudos here. Wells Fargo realized that there was a serious need to help educate people about student loans and higher education. After all tuition keeps going up, fees have increased and student loans have become an animal of their own.
That, however, does not mean that seeking higher education is impossible, which is why Wells Fargo created this community to connect students and parents with information straight from the horse's mouth. And guess what, you don't have to be a Wells Fargo customer to join!
Here's some of the stuff you'll get just by joining the community:
Links and information to resources that will help you make an informed decision.
Engagement with Wells Fargo representatives to help you come up with a plan that works for you.
Student and parent impressions of college visits.
Access to information from financial aid officers and guidance counselors.
A community where anyone involved in the student lending process can help each other out through message boards, blogs and more.
Overall it's a nifty little place where you can find real time information on the student lending process. Should you decide to continue your education you also have access to people who can get you started right away.
Paying for higher education is not something that should be taken lightly. With that being said I'm glad companies like Wells Fargo are creating communities where people can connect, share and get the information they need.
Whether you're entering college, going back to finish your degree or considering grad school it's important to make the best decisions for you and your money. For more information on how the Wells Fargo Community can help check out the video below:
Are you planning on going back to school?
Where do you find information about student loans?
Let us know in the comments!
For more information about the Wells Fargo Community, please visit Wells Fargo Community's site. I was selected for this opportunity as a member of Clever Girls Collective, and the content and opinions expressed here are all my own. #WFCommunity #spon