Since starting this blog at the end of 2010 I have been able to nail my New Year's resolutions. In 2011 I knew it was high time to get my finances in order and I did just that – I came up with a savings plan that worked for me, opened up a Roth IRA, I got a full-time job and I got a raise at said full-time job within a few months. In 2012 I knew my health and wellness was a priority – I'm proud to say that I've been practicing yoga regularly for a year and picked up kickboxing a few months ago. I'm also on day 107 of regular meditation.
One question I get asked all the time is how do I do it? How do I manage to actually do what I say I'm going to do? How did I manage to go from sedentary workaholic lifestyle to working out nearly everyday? How do I keep expanding this blog and my career? How did I manage to set up an IRA when I didn't know compounding interest from my own ass? And most of all, how did I manage to stay on track when life hit me square in the forehead with a breakup, hard times at work or family stuff?
Am I just more disciplined than the average Joe? Not really. In fact, I have my days when all I want to do is stay in bed. I do, however, have a few tips that have helped me actually achieve my resolutions.
1. Prioritize
I try to keep it to no more than three resolutions a year. I also make sure to categorize them. So for instance 2011 was dedicated to finances & career and 2012 was dedicated to health & wellness – two departments where I knew I had to get it together. In 2013 I'll hopefully just be able to add on to lifestyle changes I've already been working on for some time.
So how do you choose which resolutions to go for? After all, if you're anything like me (which you probably are since you're reading this blog) then you get a little ambitious and carried away.
Gabrielle Bernstein published an awesome video a little while back that really gets down to the nitty gritty of prioritizing your resolutions. And guess what? It really works! Check it out below:
Click here to read the entire post.
 2. Figure out how you work.
Hit the ground running or baby steps? Everyone is different. I personally have to do something everyday in order to create a habit. Other people are more successful when they start small, like starting off going to the gym once a week instead of everyday.
Look back at your past successful resolutions. How did you approach it? Did you make a commitment from the get go or did you ease into it? Once you figure out what works best for you, use it.
3. Start early.
This is my favorite tip – start a few days early! Last year I started practicing my healthy resolution on December 26th. It made it seem like there was less pressure and by the time January 1st rolled around I was already a few days in.
This year I'm doing the same with my green juice resolution. In fact, I started on Christmas Day
4. Use life's curve balls to your advantage.
One of the biggest reasons people have a tough time with resolutions is because life inevitably gets in the way.
Been through a breakup? Got laid off? Illness? No problem! Use these less than desirable situations to your advantage. Get creative and use the energy these situations bring up for good.
Don't get me wrong, if you need to take a few days to readjust, do it. But you also have to look at the silver lining – and guess what, you know have more time to cultivate those resolutions. Besides, focusing on something else other than your hardship – like doing something good for yourself – can make a huge difference in the healing process.
For instance, when I was feeling a lot of anger after a breakup I upped my fitness routine and started kickboxing. I was still taking care of myself, was using the anger to get a good workout in and was releasing whatever crazy emotions were coming up through physical activity.
The result? I've got arm definition for the first time in my life (see picture below haha). My abs are tighter, I'm stronger, I've got more endurance, my mood has improved and most importantly, I've made health and fitness a regular part of my life.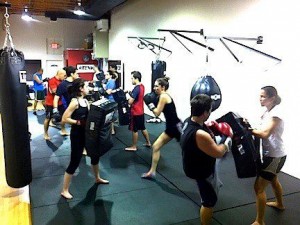 2012 resolution completed, even with one of life's curve balls.
5. Enlist some buddies & declare your resolution.
Do you and a friend both have a similar resolution? Join forces! Go to the gym together, work on your side hustles together at a coffee shop, train for that marathon together, whatever! There is some serious strength in numbers so take advantage!
This is also a great way to keep yourself accountable. By declaring your resolution out loud it gives you a sense of commitment. The friends you enlist can also help keep you on track (just like you can help them).
6. Have fun! Don't be so hard on yourself!
We're not perfect, and as a result we're going to fall off the wagon. The plan of action here isn't to be so hard on yourself – that just brings up feelings of guilt, anger and a whole bunch of bullshit that won't serve you.
The solution is to acknowledge the goof up, give yourself a pat on the back for getting as far as you did and picking yourself back up again the next day. Sometimes it takes a few tries before something sticks, and there's absolutely nothing wrong with that!
At the end of the day resolutions are meant to improve our lives, not make us feel miserable.
So what are my resolutions this year?
Health & Fitness: Start juicing, baby! I got a Breville juicer for Christmas (the same one in the documentary Fat, Sick & Nearly Dead) and I'm ready to use it! I've been experimenting with green juices and smoothies for a few weeks and I truly feel it's time I make a commitment to those micro-nutrients and make myself some green juice for breakfast everyday (as I am writing this I am on Day 2).
Follow me on Instagram, Facebook or Twitter to keep up, join in and show me your juice!
(Optional resolution: I've been reading up on the health benefits of massage thanks to Kris Carr. In 2013 I will try to get a massage once a month to help my muscles out.)
Money: In 2013 I hope to max out my Roth IRA contribution for the year. The max contribution is $5,000 and I already contribute $1,200 automatically. Only $3,800 to go! I plan to do this with the help of Impulse Save. If there is anything that Impulse Save has taught me it's that little savings here and there add up quickly.
Career: There's nothing really new in the career sector other than continuing what I've been working toward since starting this blog. I need to continue testing my coaching chops as I move through the ICA program. I also hope to become actively involved in local networking and career communities. I've got a couple of workshops I'm working on that will help me get involved, give back and help me with one of my ultimate blog/career goals of speaking & live events.
I also hope to attend at least one conference in 2013. I upgraded my Delta Skymiles account & have accumulated a ton of miles for United. It's time to start using those suckers!
Are any of my fellow bloggers attending any conferences in 2013? Which ones? Want to split the cost of accommodations? Email me and let me know
What are your resolutions or goals for 2013? Feel free to share in the comments below!