Hello loves! It's been a complete whirlwind of amazing things around these parts! Between my latest Lifehack article going live, my YouTube channel tripling in subscribers, blog coaching clients, creating my life coaching structure and getting ranked as one of the 20 Must Read Career Blogs for the Young Job Seeker by Under 30 Careers I've been celebrating for a week!
But wait – it gets better!  On Friday January 11th I was asked to be on a HuffPost Live panel to talk about millenials, boomerang kids and the economy! Several of you watched LIVE and showed some serious love! You guys really came out to support us against the typical millenial bashing that usually occurs in the media. YOU GUYS ROCK! Check out some of the awesome comments below:


You can watch the entire segment by clicking the image below. Or click here.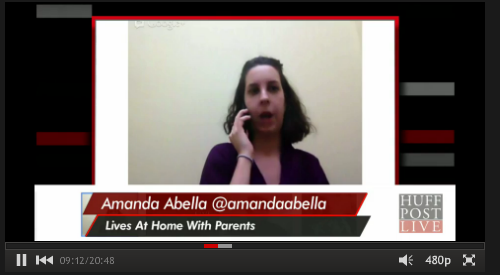 Tweetable:
[tweetable]Check out this awesome @HuffPostLive  segment about boomerang kids, millenials and the economy! via @amandaabella[/tweetable]
NeuYear Calendar Giveaway
Okay guys, and now for the second part of this post. I want to give a HUGE shoutout to NeuYear for sending me over a FABULOUS calendar! Those of you who are on the Email Insider list already know how in love I am with these calendars – and a couple of you have even purchased one! But for those of you who don't know, the guys over at NeuYear created these beautiful 2013 calendars that let you see the entire year, allow you to track your goals, allow you to give yourself weekly ratings and are design friendly!
In celebration of a New Year and an awesome week, the guys at NeuYear sent me an EXTRA calendar to give away on the blog! Just use the Rafflecopter widget below to enter!
30% Discount on NeuYear Calendars for Email Subscribers
If you can't wait for a raffle then make sure to subscribe to the Grad Meets World email list! NeuYear has created an exclusive 30% discount code just for GMW subscribers! Just sign up at the bottom of this post and you'll instantly get your 30% discount code.  Here's to a fabulous New Year!